FROM INTERNAL FUNCTIONAL THINKING TO DIGITAL CHAIN
Chain integration is defined as the alignment of logistics activities between and within individual logistics links and activities. The logistics processes should be seen and can be managed as an integrated whole today. Support your logistics activities by an integrated information system. Strive to optimize the logistics performance of the entire chain (Boorsma & Van Noord). Integration is Digital Data Sharing.
WHAT RESULTS COULD DIGITAL CHAIN INTEGRATION BRING
Collaboration – working more faster, effectively and efficiently;
Transparency – track & trace;
Visibility – fewer disruptions, increased customer satisfaction and lower costs
Cost control – becomes easier and automatic links (APIs);
Outsource non-core activities – takeover by a chain partner;
Reduced hardware – Software As A Service in the Cloud;
Less dependent on legacy and older systems – more flexibility and online real-time information;
Predictability through information – Example: order accuracy, proactive service & maintenance;
Smaller internet applications –  no longer dependent on large or bulky transaction processing systems.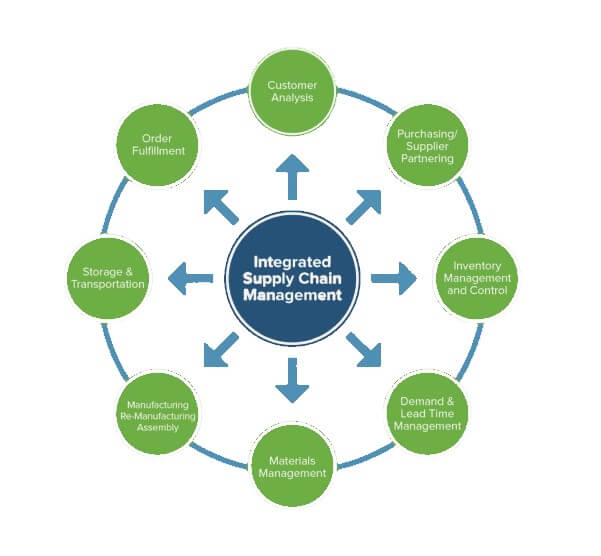 LOGISTICS IS A FLOW FROM THE FIRST TO THE LAST PHASE
Logistics is more than just transportation from one place to another. It is an umbrella term for everything related to organizing, planning, managing and executing a flow of goods. A flow from the first to the last stage. To manage your logistics processes, you should look at the moment when raw materials, (semi) finished products are purchased until the final product reached the consumer. Examples of logistics sectors where this comes into play include:
MEASURE THE PERFECT ORDER
In logistics, it's all about order types and the associated data. The aim is chain control from raw material to finished product. The following order types can be distinguished: sales order, production order, warehouse order, purchase order, transport order and service order. These orders create a logistic flow. An order management system (OMS), for example, ensures that logistically oriented order types can be tracked, handled and controlled. Orders then "flow" through the supply chain in a flexible and efficient manner. This is important both internally in the larger corporate companies and between independent companies. In the latter case we speak of collaboration and control in the supply chain.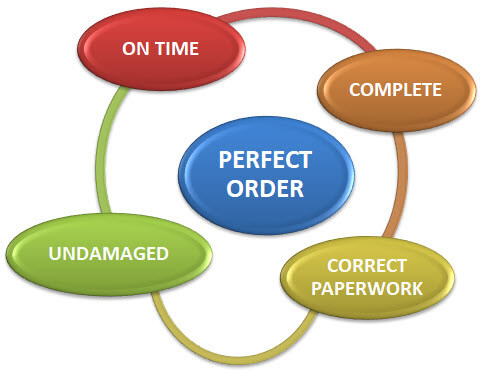 ORDER PERFORMANCE SHOULD BE MEASURED
Here an example concerning your purchase order. Order measurement calculates the error-free phase of each purchase order. Your measurement should capture each step in the life of an order. It measures the errors per order line. But how does you deal with errors? For example, the warehouse grabs the wrong item and sends it out. Once the customer receives the order and notices the error, he contacts you and informs you of the error. You then enters a credit for the incorrectly shipped item. We are talking about return logistics here and the order is re-executed. Errors are recorded and classified (non-conformance category and code). An analysis produces a statistic. In this way, the purchase order flow in the chain is measured and optimized. Your data report could then look like this:
Order Entry Accuracy: 99.95% Correct – 5 errors per 10,000 order lines;
Warehouse Pick Accuracy: 99.2%;
Delivered on Time: 96%;
Shipped without Damage: 99%;
Invoiced Correctly: 99.8%.
INTEGRATION IS DIGITAL DATA SHARING
Let your materials flow in the digital age! By consistently linking information in and between digital information systems. At the time, an assignment in the supply chain industry turned out to be an incubator for my logistics blogs. To better place "the perfect order," read more examples. Here you can read about data in relation to the supply chain and collaboration between the chain parties. It is therefore important that 'on-line real-time data flows' are integrated per "process and/or activity" and can be compared with recent and historical data. You need supply chain visibility also in the financials end-two-end. These analyses generate insights and contribute to proactive decision making.
WHAT EXACTLY IS AN ORDER MANAGEMENT SYSTEM
An Order Management System (OMS) is the system you use to keep track of the purchases or orders you receive from customers for goods or services. An OMS also keeps track of customer information and inventory. Every business probably has an OMS. Even if it's only in the form of a cluttered spreadsheet.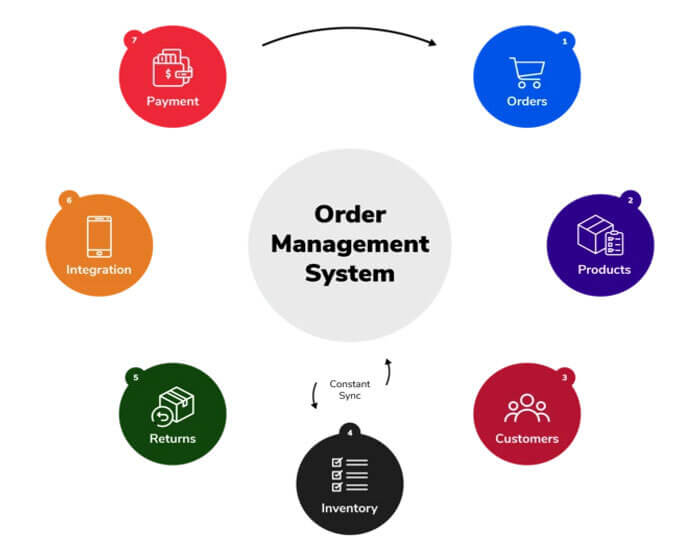 YOUR EXISTING ERP OR BUSINESS SYSTEMS CAN STAY
By implementing an innovative SaaS Order Management System, your existing software can remain "operational. As long as data exchange is possible between legacy existing operational systems and your order management portal in the Cloud. The data exchange (EDI) can take place via an Enterprise Service Bus (ESB). You can think of an ESB as an electronic socket. Its use promotes data structure, harmonization, overview, standardization and implementation speed. Electronic Data Interchange (EDI) is the exchange of structured and standardized data between computers of the parties involved in a commercial, operational or financial transaction in the supply chain. Knowing your own costs is a prerequisite for looking at your costs in the chain.
CHAIN COSTS
Knowing what your own costs are is therefore a prerequisite before you can look at chain costs. How else would a company discover savings from supply chain integration? The logistics manager, in close cooperation with the purchasing and sales departments, must therefore examine what costs are incurred before and after their own links in the logistics field. Think about inventory costs, warehouse costs and transportation costs incurred by suppliers and buyers. To get a good picture of your costs, there are proven methods. For a good understanding, read the blog post: The advantages of ABC lead to logistics ROI.
Author is Harry Luijk – Logistics & Supply Chain Professional at DiLX B.V. a Gateway Group Company & Partner at Merlyn Consult.